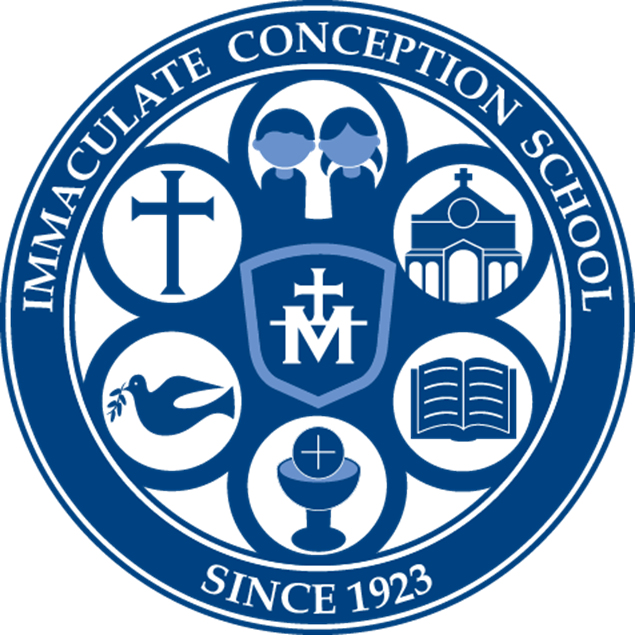 From kindergarten to sixth-grade, our goal is 90% Spanish during class time. Since that's only possible within a shared context, all the class content is based in stories. At the primary levels, we capitalize on their shared knowledge of classics like "Goldilocks and the Three Bears" and "The Three Little Pigs." By third grade, we progress into Biblically themed stories like David and Goliath, the Nativity of the Lord, and la Resurección.
How can third-graders talk about the Bible in a language they don't speak?? Elementary Spanish at IC is an adaption of a methodology called "Teaching Proficiency through Reading and Storytelling." The teacher tells one detail of a story and then asks a series of questions of the whole class. In turn, they answer in unison entirely in Spanish:
¿Es Jesús un bebé? ¿Sí o no? → ¡Sí, Jesús es un bebé!
¿Es Jesús un adulto o un bebé? → ¡Jesús es un bebé!
¿Quién es el bebé? ¿Jesús o José? → ¡Jesús es el bebé!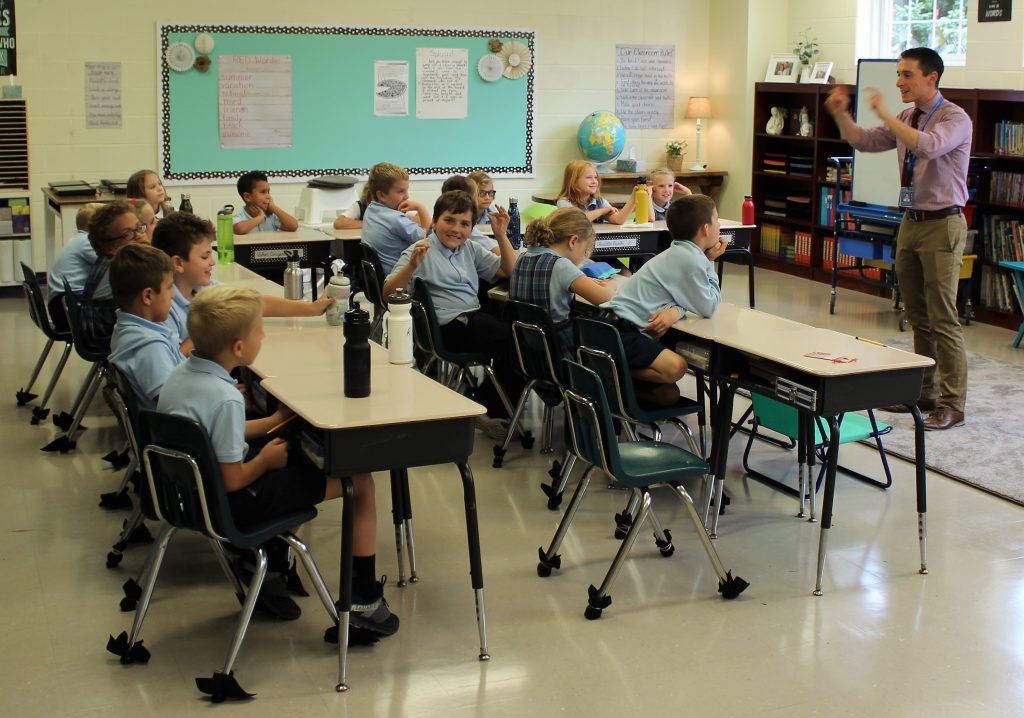 This process subconsciously builds the foundations for word structure, sentence structure, and vocabulary while also building confidence from day one that "I can speak Spanish!" 
Meanwhile, our junior high students combine that same TPRS philosophy used in K-6 with additional study of grammar and vocabulary that will allow them to test into high school Spanish 2. This process requires more of an English-Spanish balance than they experienced in the younger grades so that we can analyze the structures in more depth.
By eighth-grade, our students apply and develop their Spanish knowledge in an overview of Salvation History. Beginning in the Garden of Eden and ending in Paul's missionary travels in the Acts of the Apostles, they study the essentials our family story as told in Sacred Scripture– all en español, of course.
At Immaculate Conception School, we use data from a variety of sources.  Earlier in the year, I wrote about STAR testing and how that information is used. Today, I am going to take a closer look at the Terra Nova results you will be receiving shortly. Before we get into numbers, we need to understand that data is a tool.  It is a powerful tool, but a single test cannot tell us everything we need to understand about children. That's why we use a variety of data points.  Some things are formal tests such as the Terra Nova. Others are teacher observations. While that may be less formal, it is just as important.  The teachers at Immaculate Conception are constantly monitoring students to ensure they are learning.  We look for trends in the data.  The trends help us make connections and create learning opportunities for the students. The Terra Nova is a nationally normed standardized test.  This means the students at Immaculate Conception are compared to students throughout the county who have also taken this test in October. In a few days, you will receive your child's Home Report.  The first page has a chart with your child's national percentile ranking in the tested areas.  The easiest way to think of this is that a student who scored in the 71st percentile scored better than 71% of students who took the same test.  Percentile scores between 25 and 75 are considered average scores. The next page breaks the overall subject score into categories to give you more information.  They use circles to indicate levels of mastery.  The three levels are High Mastery – This is considered to be a complete understanding of a topic. Moderate Mastery – This is close to complete understanding, but not quite there yet. Low Mastery – This is consistently scoring below proficient. It is very possible to have all three scores in a single subject.  A student could easily have a high level of mastery in the computation category while also having a low level of mastery in the measurement category. The last score reported to parents is the child's Lexile range.  Lexile is a reading level.  Students generally progress in reading if they read a book that is understandable, but just slightly above their reading level.  The "sweet spot" for learning using Lexile scores is between 100 points below and about 50 points above the child's actual score.  This is why this score is reported as a range. I encourage you to review these scores when they come home. They will give you a bit of insight into your child's academic progress.
Por ustedes estudio, por ustedes trabajo, por ustedes vivo, por ustedes estoy dispuesto hasta dar mi vida.
St. John Bosco