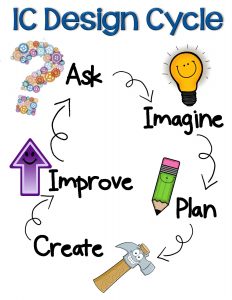 When my kids were younger, we would have campouts in the living room. They always seemed to know when it was happening. Maybe it was when I would pop the popcorn, or maybe it was when I would search for a movie. It didn't matter, they just knew. Their first question was always, "Can we build a tent?" I would say yes, but they could not use the cushions from the couch where I was sitting. They would pull all the other cushions off the couch, grab blankets, and find pillows. Then, they would get to work building a tent. When the tent would collapse, they would start over and figure out how to make a sturdy tent. By the time I had everything ready, they would have a functioning tent.
This experience is far from unique. Many families have had very similar experiences because this is the way children learn. Children are naturally curious and are willing to take chances. This is why the design cycle is so important. It taps into the children's willingness to learn.
At Immaculate Conception School, the design cycle begins with the phrase Ask. This is the students learning what problem they will be addressing. The students also learn the limitations of the solution. Will they only be permitted to use certain materials? Will they only have a limited amount of time?
The students will move onto the Imagine step. This step has the students brainstorming all of the possible solutions to the problem. During the imagine step, collaboration with others is essential.
After Imagining all of the possible solutions, the students select the one that will fulfill the goals and begin planning what they will do. This is usually done on paper, but not always.
Now that students have planned their solution to the problem, they can move on to the next step of creating. This is sometimes building something, but it can also be developing a solution to the problem.
After the students have created the solution, they can evaluate how well it works and improve on the original design. This is an essential part of the process. In everyday life, a perfect solution is rarely created the first time.
It is also important to understand this is not a linear process. It is a cycle that may have pieces out of order at times and steps repeated. Learning can be a messy process, but it happens best when students create understandings in their minds.