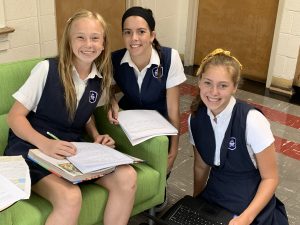 Junior High students enjoying the flexible seating in Mr. Kersey's class.
There's no doubt that if you visited a classroom during Meet the Teacher night, you noticed that the classrooms look different.  Many teachers have embraced the idea of using flexible seating in the classroom.  Although it is a change from what we may have experienced in school, it does offer students several benefits.
The easiest ones to see are comfort and movement.  When students are comfortable, it is easier for them to learn.  The teachers are doing much more collaborative work in the classroom and the flexible seating gives them an easy way to rearrange the classroom to fit their needs.
There are also benefits that are not easily seen.  When students have choice in the classroom, they have some control of what is happening. This boosts their autonomy. As autonomy increases, so does the students' intrinsic motivation.
Another part that is not easily seen is that students are learning how they learn best.  Some may learn best while bouncing on a fitness ball, others may prefer a desk. Learning how they learn is a skill that will help students throughout their educational careers.
Flexible seating is fun and comfortable, but it also helps us with our long-term goals of having our students be learners for life.