There are many fun events happening in the library this Christmas season and a few you can help make extra special.
I am still taking donations of used books for Slate Hill Elementary students.  Please take a moment to look through your book cases for the books your readers have outgrown.  There are new readers hoping for a great "new" book to read this holiday season!
A bookmark contest begins this week. I will explain it to the students but here's the quick version.  Three winners, one each in K-2, 3-5, 6-8. All students can enter by completing one bookmark and giving it to me.  Each book mark will be given a number for voting purposes as students' names should be on the back of the entry. The bookmarks will be on display on the bulletin board outside the library.   Each winner gets a 10.00 Barnes and Noble gift card. All entries are due by Dec. 12 and voting by the students will be Dec. 13 and 14.  The winners will be announced on Dec. 17th.  I will need help on the Dec. 14th to count ballots after school from 3-4 pm.  Let me know if you are interested.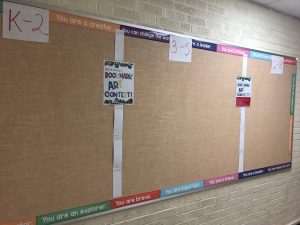 I will be  circulating a surprise Christmas book starting Dec. 10.  I will circulate one for K-2, 3-5, 6-8.  Ask your student during that week if they got to listen to the reading of the surprise Christmas book.
Lastly, I can always use parent volunteers in the library.  Stop by anytime to help shelve books, process books, or help students choose and check out books.
Happy Reading!
It is an awfully sad misconception that librarians simply check books in and out. The library is the heart of a school, and without a librarian, it is but an empty shell.