Last week in the library the first, second and third grades were busy in the library.  I'm not sure why they had more fun in the library, because the library is always the best place to be, but we had fun.
First, Mrs. Tyler's class rearranged the entire library.  I'm sure Mrs. Wood heard the ruckus!.  I asked them how we should arrange they library and their brains were clicking and ideas were flying.  Finally, I could not contain their ideas any longer and just let them move the tables, chairs, bean bags, book carts and lily pads where they thought they should be.    Mrs. Tyler's class really wanted a cozy book reading area so they moved the picture book carts in a semi circle, added an alphabet mat they had to put together as a comfortable floor cushion then a few bean bags and lily pads and they succeeded in their task.  It was so fun to watch their brains work and watch them work as a group to find the best arrangement.   Every class that has come to the library since has loved the new arrangement!
Then first, second and third grades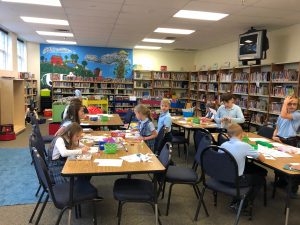 read Gus, the Pilgrim Turkey and added turkeys in disguise to our fall bulletin boards.  I put a few students in charge of helping other students hang their turkeys up and they had fun trying to disguise their turkeys so they will not become Thanksgiving dinner.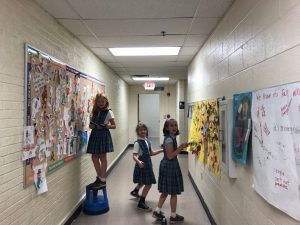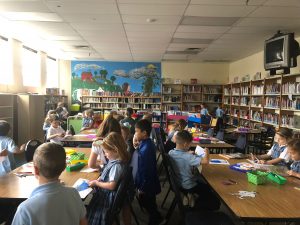 Just another fun week in the library.  Gobble Gobble!