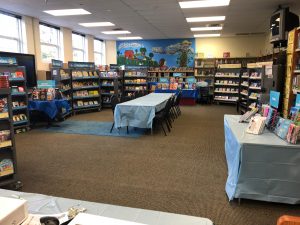 It's a busy week in the library!
All week long we have the book fair in the library. We are trying a new book fair company, Follett, that has been around as a book distributor for many years.  We received a great selection of books very similar to what Scholastic sends but the books that I can choose from with our reward dollars should be of higher quality than Scholastic.  Unfortunately, we are not able to have lunch visitors this year but that will resume next year.  You can shop everyday from 3:00-4:00 with your student(s)  and on Thursday during conferences. If you don't see a book you want at our book fair and, it is in the book fair catalog, I can order it from the cash register when you pay for your other purchases.  It will be delivered to the school in your student's name.
Follett also has a gift card option which allows your student(s) to shop without the worry of bringing money to school and/or losing it.  Check their wish list and buy a gift card for the amount needed.  Any money not used can be used on the Follett website at https://www.follettbookfairs.com/main/shop.  Thanks for helping build our school library with every purchase you make!
The seventh and eighth grade library students are learning a little about voting and how to be an informed voter.  This week they will visit the website  VOTE411 to look at a sample ballot for area code 43214, read about the issues and candidates and cast their votes.  I will not see their votes nor are they tabulated in any way.  It is an exercise in voting, how to cast a vote and the importance of voting as they will be old enough to vote in five to six years. For more information The Washington Post  features an article about about what parents can do to raise informed voters.
Have a great week of reading and see you at the book fair!